On Wednesday ambulances queued up at the Rafah crossing to take around 80 critically ill Gazans into Egypt for medical care.
The border is opening for a very select group of people in urgent need of treatment – and up to 500 foreign nationals.
But for more than two million Gazans left inside the enclave, airstrikes continue, with several hitting the Jabalia refugee camp in the north on Tuesday.
Most have been unable to find out if their families survived the attack after communication was cut for the second time in five days.
A Sky News producer in Gaza managed to send this voice message on Wednesday morning.
Crowds enter Rafah crossing from Gaza

Last night was a difficult night because the communications were cut so we couldn't contact our families in Gaza City and northern Gaza to check on how they're doing.
We are hearing on the radio of a lot of shelling on civilian areas and the ongoing fight between Hamas fighters and Israel on the ground.
Until now we don't have phone connection, I'm using an international e-sim which is how I'm able to send this update.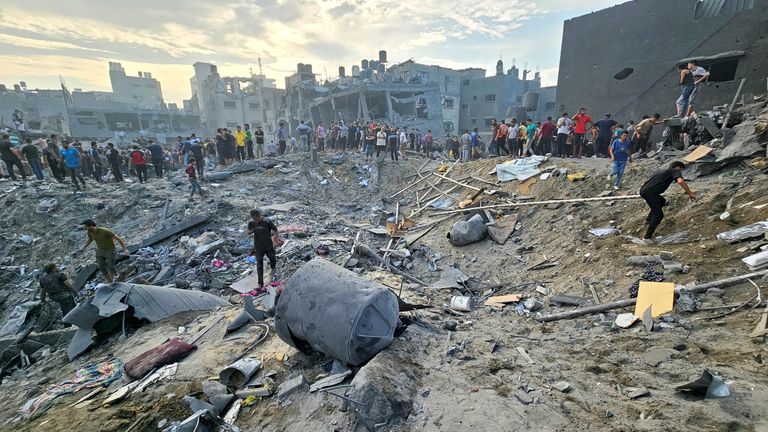 Read more:
Reports: Some seriously injured evacuees enter Egypt via Rafah border crossing
Israel says its fighter jets targeted Hamas commander in deadly strike on Gaza refugee camp
The strike on the Jabalia refugee camp caused a nearby building to collapse into part of the network of tunnels that Hamas operate in under Gaza, according to the Israeli military.
Israel Defence Forces (IDF) spokesperson Lieutenant Colonel Peter Lerner told Sky News civilian casualties among the 50 dead and 150 injured in the strike are "truly tragic", but it succeeded in killing its intended target – Hamas commander Ibrahim Biari – who is believed to be among those responsible for the 7 October incursion.
The IDF has repeated calls for Gazans to move south since it announced the stepping up of its campaign in the north on Friday.
But with one of the highest population densities on earth, war-torn Gaza is difficult to navigate and lacks the space for the migration of millions of people.