A Russian artist and musician who swapped price tags in a St Petersburg supermarket with anti-war messages criticising Russia's actions in Ukraine has been sentenced to seven years in a penal colony.
Sasha Skochilenko, 33, was arrested and jailed in April last year after the incident at the branch of supermarket chain Perekrestok.
Ukraine war latest updates
She was sentenced on Thursday for supposedly discrediting Russia's armed forces.
Given the 19 months she has already spent in pre-trial detention, the sentence will be reduced by more than two years.
The prosecution claimed she was acting out of political hatred.
However, Skochilenko says she was neither a political activist nor an extremist, but was acting from pacifist conviction.
She told the judge in her final statement that the case was "bizarre and ludicrous", and that even employees at her detention centre were astonished at the charges.
She also pointed out that the prosecution of her case and the substantial media coverage it had received had spread the message far wider than might otherwise have been achieved by placing five pieces of paper in a supermarket.
"Had I not been arrested," she told the court, "it would have been known only to one granny, a cashier and a security guard at the Perekrestok store.
"So why aren't my investigators and prosecutors facing charges under Article 207.3 (of the Russian Criminal Code, which penalises public dissemination of deliberate false information about the use of Russian Armed Forces), only me?"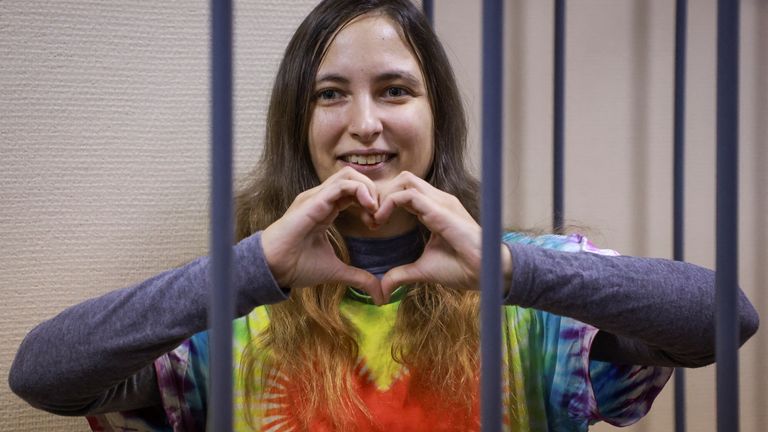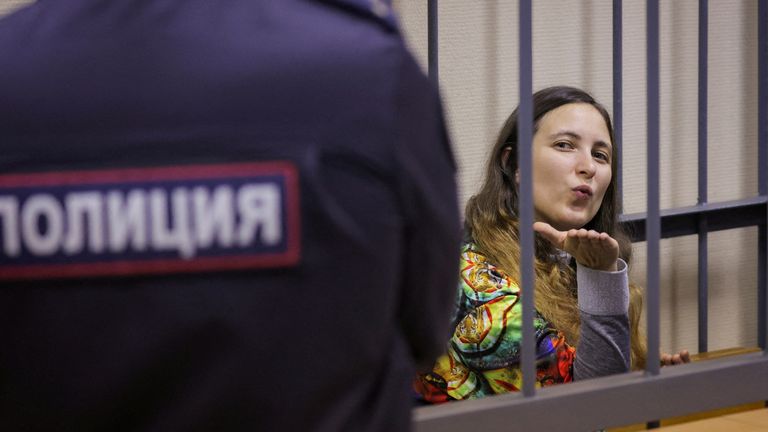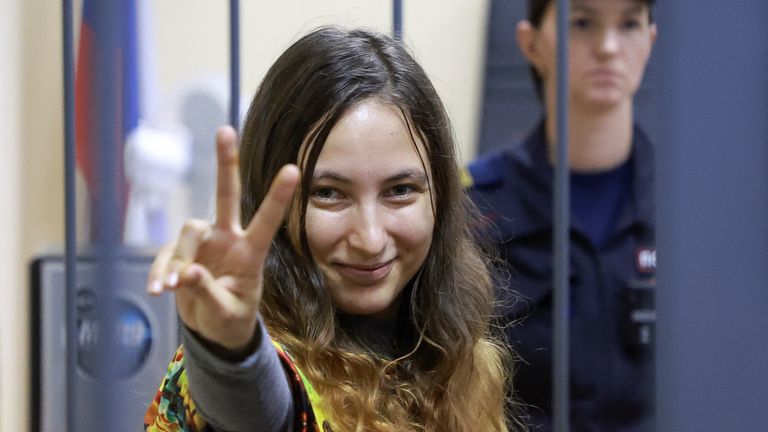 Dressed in a tie-dye T-shirt with a huge red heart on the front, Skochilenko made heart signs from inside the glass cage as her supporters chanted "disgrace" and "freedom" after the verdict was read out.
She cut a fragile figure surrounded by burly, balaclava-clad police guards, some of whom had 'Z' on their helmets, the symbol of Russia's campaign in Ukraine.
Her supporters are concerned that her prison term could become a death sentence, given her several severe health conditions.
Skochilenko has written in the past about her struggles with mental health including bipolar disorder. She also has a congenital heart defect and is coeliac.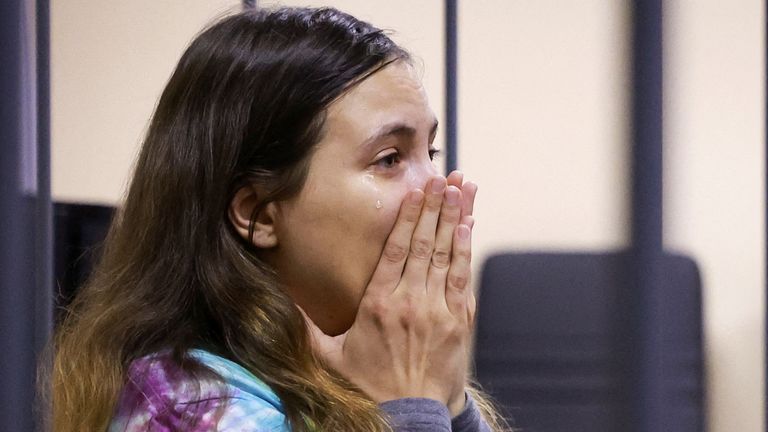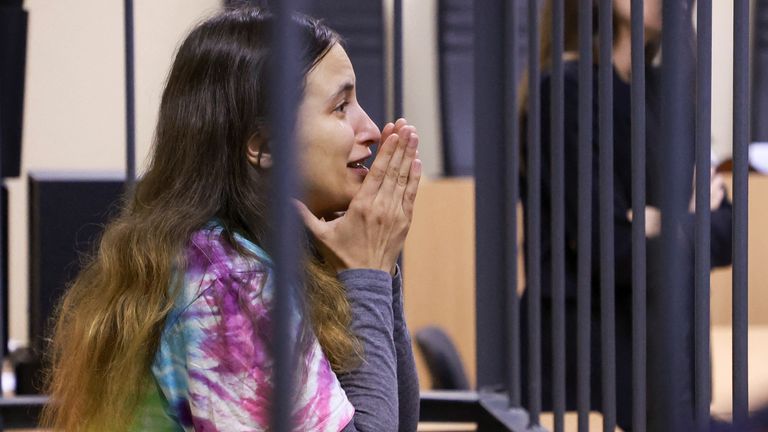 Her lawyers and supporters are concerned she will not be provided with the food or medical support she needs when she is transferred to a prison colony.
Since the Kremlin introduced the legislation last March criminalising any supposed discrediting of the armed forces, nearly 750 people have faced criminal charges, according to the human rights group OVD-info, which documents political persecution.
Read more:
Cameron meets with Zelenskyy in Kyiv
Ukrainian major killed by birthday present
Skochilenko's case is one of the most high profile, alongside prominent political activists like Ilya Yashin, who received an eight-and-a-half-year term last December under similar charges.
The artist was originally reported to the police by one of the supermarket's customers.
According to local St Petersburg media outlet, Bumaga, which managed to track that customer down, they themselves were surprised at the verdict, telling journalists "for bits of paper, it should of course have been less".
Click to subscribe to Ukraine War Diaries wherever you get your podcasts