A woman suspected of serving a beef wellington laced with poisonous mushrooms which killed three family members, has been arrested.
Erin Patterson, 49, cooked the meal at her home in Leongatha, a small rural town in southeast Australia, on Saturday 29 July.
Her former in-laws Don and Gail Patterson, both 70, were among those who ate the meal which is suspected to have contained poisonous fungi known as death caps – which are responsible for 90% of all toxic mushroom-related fatalities.
Mrs Patterson's sister Heather Wilkinson, 66, and her husband Reverend Ian Wilkinson, 68, were also at the table.
All four felt unwell by midnight that evening.
Mrs Patterson and Mrs Wilkinson died nearly a week later on Friday 4 August.
Mr Patterson died the next day, and Reverend Wilkinson was left in a critical condition in hospital, but is the only individual to have survived.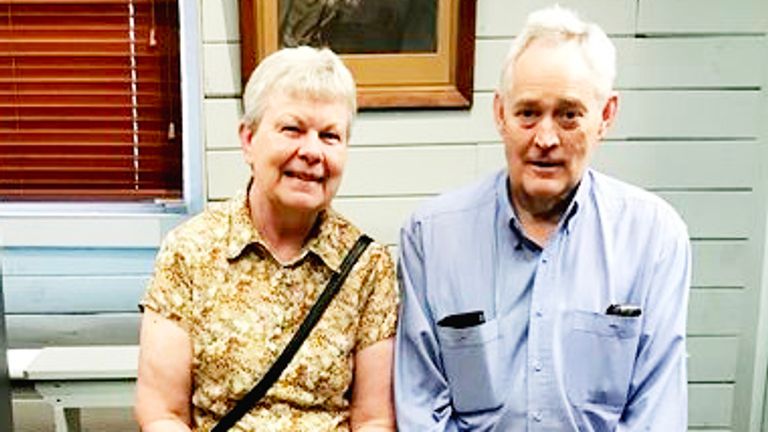 Victoria Police confirmed a woman had been arrested on 2 November, as part of their investigation into the deaths of three people, who became ill following a meal at a private residence earlier this year.
They did not directly name Patterson.
A police search at a home on Gibson Street is also being carried out, with the assistance of technology detector dogs.
"The woman will now be interviewed by police and the investigation remains ongoing," police said.
'I didn't do anything'
Patterson has always denied any wrongdoing, and in August broke down in tears when speaking outside her home.
"I'm so sorry that they have lost their lives. I just can't believe it. I didn't do anything, I love them, and I'm devastated they are gone," she said.
In a separate voluntary statement to police, Patterson said she served the meal and allowed the guests to choose their own plates. She then took the last plate and ate some of the beef wellington herself.
Read more from Sky News:
Hundreds of foreign nationals cross Gaza-Egypt border
Worker filmed urinating into malt container at beer factory detained
She said she suffered bad stomach pains and diarrhoea after the meal and was hospitalised, adding she was transported by ambulance from the Leongatha Hospital to the Monash Medical Centre in Melbourne on 31 July.
Patterson claimed the mushrooms used to prepare the meal were a mixture of button mushrooms purchased at a supermarket, and dried mushrooms purchased at an Asian grocery store in Melbourne several months ago, which were in a hand-labelled packet.
Contrary to initial reports from police, Patterson's two children had gone to the cinema and did not eat the meal.
Police have urged anyone with any information to contact them as soon as possible.